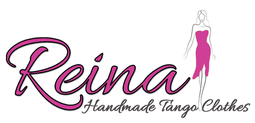 THE DESIGNER
Professional tango dancer and teacher since 2005, mother of a 9 year old boy and a clothes' designer since 2012, I am proud to present my unique tango clothes' collection, as the outgrowth of all those years of living my life around Argentine Tango and all that this encompasses.
All those years of dancing at shows and milongas it was essential for me to wear clothes that would be suitable for the tango moves, comfortable, fine and light but also to have perfect fit, so they would not inhibit my movements and make life difficult for my partner, while dancing! I also looked for my dance clothes to be feminine and flattering for the female body.
Gina Nikolitsa
About Us
This led me to start designing and sewing and dancing with my own clothes, initially only for my own use, which very soon, to my surprise, developed into something I also greatly love, apart from dancing! I came to realize that my taste in tango fashion and the choice of materials was greatly appreciated by other fellow tangueras. The fact that I am also the seamstress of my own designs is the extra bonus that guarantees the quality of my clothes! It means that each piece of clothing is paid special attention to and is looked after to its last detail before it reaches you. It is as if I create something that I would wear, each time I make something for you!
Everytime you wear a piece of Reina you can be assured that its design has been tested by a professional tango dancer and it is perfect to wear in milongas, tango shows or even your night outs and special events, feeling free to dance with your heart and enjoy your own femininity and grace.
Reina offers top quality, stylish handmade clothes fit for tango dancers, designed and produced by the tango dancer and instructor Gina Nikolitsa.
The dance of Argentine Tango represents a magical world which encompasses an entire culture of art, music, poetry and also fashion! Tango is more than just dancing. It is rather an attitude and a different style and way of life. Enthusiasts of tango around the world share a common passion not only for the dance itself, but also for all the elements that accompany it. Fashion and clothing is a very important element of Tango.
Reina, has been established to meet the need of tango lovers for elegant, stylish and dedicated clothing with a specific character and design which aims at enhancing the dancers' movements while at the same time showcasing the entire body, and helping empower the special atmosphere and distinctively strong feelings created by tango dance and music.
Reina offers one of a kind, hand crafted clothes designed and produced by Gina Nikolitsa, using high quality fabrics, at very competitive prices for your beloved tango nights!
Being a professional tango dancer and instructor herself, Gina is well aware of the specific needs of tango dancers regarding suitable clothing. You may also contact Gina and discuss your tailor-made offer to fit your own private needs.