MODEL EMA | 4822
Ema | 4822 | Red Leather
All models are available with a rubber sole with suede or just suede sole. Please let us a note in your order about your preference. Otherwise we will send you what we have have in stock.
In the DNI Store's eleven years, selling quality, long lasting, stylish shoes has been its priority. Our objective is shared by our shoe manufacturer that has more than 35 years of experience in making hand-made shoes designed specifically for tango dancers.
Quality
Each cut of genuine leather is hand selected and inspected ensuring that only the best cuts are used.
All components, from adhesives to buckles to laces, are quality products.
DNI shoes are durable lasting for many years.
Comfort
Lining of calf skin for comfort and breathability.
Lining joined by fine and tight stitching to avoid rubbing on the foot.
High-grade, impact resistant rubber padding on heels.
Performance
Beveled soles to avoid sticking or catching on the dance floor.
Trademark rubber sole with suede, apt for all dance surfaces. This kind of sole allows the women to make an easier turn.
The heel height for all models and sizes is seven and a half centimeters (7.5 cm).
Style
Ever changing leather supplies mean that production numbers for each model are small, ensuring that each shoe remains unique.
All designs are approved by Dana Frigoli.
Can't find the perfect shoe for you? Why not order a custom pair?
Heel Cage (Back of the Shoes):
Open
Toe Style (Front of the shoe):
Open
Find similar
TO DETERMINE YOUR U.S., U.K., OR EUROPEAN SHOE SIZE
Use a ruler or tape measurer to measure your foot (from the heel to the tip of your longest toe).
Choose a table below (U.S. to find your U.S. size, U.K. to find your U.K. size, Euro to find your European size).
Find the closest measurement, in inches, that is equal to or greater than the length of your foot. For example, a man whose foot measures 11-1/4 inches is a U.S. 12, a U.K. 12, or a European 47.
MEASURING TIPS
To ensure an accurate reading when measuring, flatten your foot by shifting your weight forward.
If your measurement is between two sizes, always move up to the larger size.
Be sure to measure both feet. Many people have feet of different sizes. Fit to the larger of the two.
Fit yourself at a similar time as when you will be wearing the footwear. For daily footwear, fit yourself when you've been on your feet all day because your feet have expanded.
SIZE CHARTS
You can see our standard shoe sizes and measurements below.
Shoe Size Chart - Women's Shoes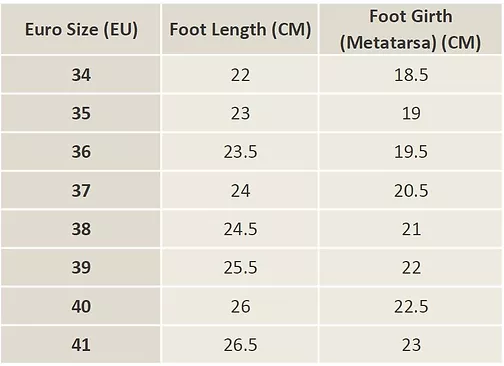 Shoe Size Chart - Men's Shoes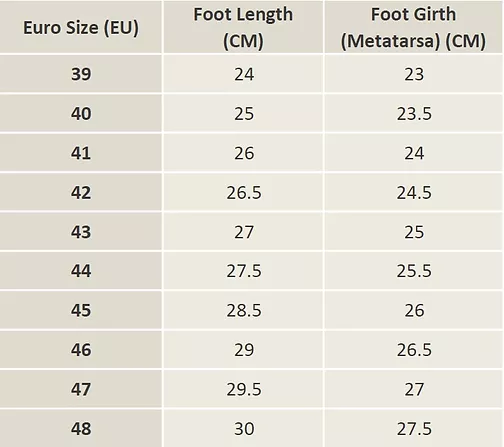 HEEL HEIGHT
Pont is the heel height of the shoes. It changes as the shoe size change.
For example, 13 pont heel of a size 40 shoe is 8,7 cm and 13 pont heel of a size 35 shoe is 8,2 cm.
11 Pont: 7 - 7,5 cm
13 Pont: 8,2 - 8,7 cm
15 Pont: 9,8 - 10,4 cm

All Bank Card

No installment